A
fierce wind storm
last night caused a great deal of damage in and around the city, (
part 2
). "The worst hurricane" in living memory broke windows, flattened fences and sheds and toppled trees.
Telephone and hydro poles snapped and the power loss was made worse by the toppling of transmission towers and damage to power plants.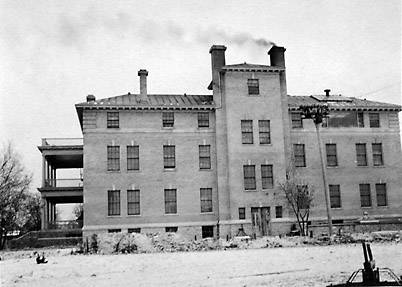 Roofs were blown off of many buildings, including the McPhillips water pumping station (Winnipeg's central water supply) and the Childrens Hospital
On Main Street, a row of parked cars are reported to have been blown across the street, some overturned. Eaton's had six of their large plate glass windows broken. "With the noise like the opening of an artillery barrage" the main sign for The Bay toppled into the street.
The worst of the wind was over by 9 pm Sunday and it rained throughout the night causing additional damage.
There were only a few reports of injuries. One being the ex-police chief MacPherson and his wife. Their car had been hit by flying debris.
It would take some time to clean up from the storm, especially as the utilities were being manned by volunteers. It was expected that a limited number of streetcars would begin running in the next day or two but that has been put off given the damage to streetcar wires and electrical facilities at Main and Assiniboine.
Note: the winds gusted at 84 mph (135 kph). On June 7, 1954 another devastating wind storm hit the province but it still did not break the 1919 record.