Labour unrest did not come to
Winnipeg
out oft eh blue. For years, labour action had been mounting in cities around the world, from Limerick to
Liverpool
,
New York
to
Seattle
.
Vancouver already had a
one-day general strike
in August 1918. February 1919's
Seattle General Strike
, (
also
), saw 100,000 people walk off the job and is actually considered the first "general strike" the U.S. ever had. Hundreds of strikes also took place in Canada in the years preceding 1919.
Some say that the seeds of the General Strike were sown in 1906 during the bitter
Winnipeg Streetcar Strike
(page 15). Other industries such as
textiles
and metal workers struck on and off as well.
The largest labour action prior to the General Strike came in May 1918 after city council refused to meet wage demands by civic employees. Streetcar workers, watermen, telephone operators and the like
walked off the job
. Other unions, such as construction workers,
struck in sympathy
. Before others could join in a settlement was reached.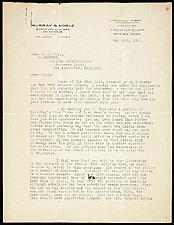 The
letter above
is between two labour leaders discussing that 1918 strike and the state of labour in the city at the time. Another great source is Manitobia.com "
Roots of the Strike
" which contains other pamphlets and photos leading up to 1919.