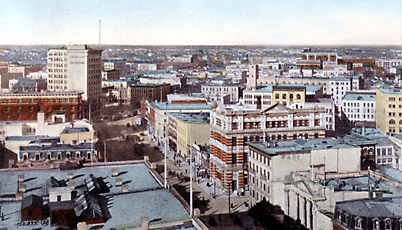 Winnipeg's economy fared pretty well through the war years as her factories, farms and transportation network helped produce and ship many of the goods and people that kept the war machine going. Local infrastructure projects such as the Provencher Bridge, Aqueduct and Legislative Building continued, ensuring more jobs on the home front.
The major economic downside was inflation. Nationally it sat at 18% in 1917 and 13% in 1919. Wages, however, did not rise at all during this time.
one Welsh camp
holding 17,000 Canadian soldiers waiting to be repatriated the conditions led to a riot / mutiny in which five
Canadian soldiers were killed
.
On a happier note, though, here's
NFB video footage
of some "lads" finally boarding a ship to come home.
As the war wound down and repatriation began there was another scourge that soldiers and civilians alike had to deal with: the
"Spanish" Flu epidemic of 1918-19. Believed to have originated in U.S. military hospitals, it was brought to Europe by troops and fanned across the continent. As soldiers returned home they brought it back to every corner of the globe.
Thousands of Canadian soldiers survived the war only to succumb to influenza, including high profile men like Manitoba Victoria Cross Winner
Alan McLeod
(March 1918) and the legendary
Sir Sam Steele
(January 1919).
In October 1918, after months of reading the news of hundreds of thousands being claimed by the flu, it arrived in Manitoba. Two soldiers who fell ill
on a train to Winnipeg
died of influenza.
rural communities that did not see a lot of new immigration and had already lost much of a generation to war.
In the end, Winnipeg had nearly 13,000 reported cases and over 800 deaths.
found that the jobs many had left behind had been filled by recent immigrants that had flooded into the Prairies. Pay levels were low compared to prices, job conditions were dangerous and, with the heightened awareness toward public health, living conditions left much to be desired. To top it all off, women had the vote !
A very good essay on the soldier's return to Winnipeg can be
found here. Here are video interviews with
Fred Connett
and
Lorne Stevenson
recalling the difficulties they faced trying to readjust to civilian life.
Life wasn't just about hardship and war. Escapism was also a popular activity.
The top film in Canada in 1918 was
Tarzan of the Apes
, about as far as you could get from real life, (to watch the entire film click the link !). Charlie Chaplin and his Tramp persona churned out a number of silent classics including
A Dog's Life
. Canada was in on the act as well with
Back to God's Country.
In music, here's a sampling of what was topping the charts in this pre-flapper era.
When Alexander Takes His Ragtime Band To France
by Marion Harris. Bert Williams, part of The Ziegfeld Follies, was very popular performer with songs like : Nobody's Business But My Own and When the Moon Shines on the Moonshine. He broke a cultural barrier as one of the first blacks in the Follies which put him in the odd position of being one of the few blacks to sing in "black face".
In Canada. the music was a bit more subdued and patriotic. Here's a listing of popular songs in 1918 (some with embedded audio.) Two particularly popular were
: I'm always chasing rainbows, The Rose of No Man's Land. Also, there was Geoffrey O'Hara's K-K-Katy.
Winnipeg Beach
was the place to be, it built its famous Ferris wheel in 1919.
Around town new buildings were popping up. Banks invested heavily in new branches, the Bank of Hamilton Building on Main Street and Bank of Commerce branch on Portage (Mitchell Copp building) were built. New cinemas like the original Garrick Cinema and the Allen (now Metropolitan) Theatre opened. The Ukrainian Labour Temple, which would become a focal point in the upcoming general strike, also opened.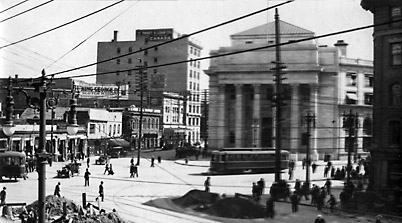 Two new Manitoba icons were also unveiled in 1919. The Timothy Eaton Statue and The Golden Boy. Rural electrification was underway with Portage la Prairie the first town to be connected to the central power grid from Winnipeg.

That a bit of what life was like in Winnipeg in 1917 - 1919.